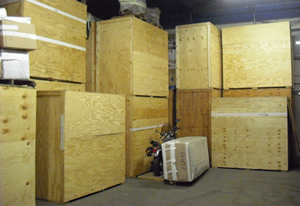 Strand offers short and long-term storage for goods that are destined for overseas moves.
We are equipped. Our warehouse has street and tailgate ramps, and we have at our disposal all the equipment needed to facilitate easy and prompt loading and unloading (e.g.: forklifts, lift jacks, etc.).
Your goods are safe with us. Strand's managers operates from our new US hub, in Hillside, NJ, which includes the warehouse where we receive and store your goods until their departure overseas.
Strand's managers personally monitor, first-hand, every aspect of Strand's warehouse operation. Nothing enters or leaves the warehouse without their authorization.
Our new US hub, is fireproof; weather controlled, and located in a secure NJ town. We have security alarm, which is monitored 24/7 by a central station as well as 24/7 closely monitored internet-based video surveillance system.
Understanding that the safety of your possessions is key to your satisfaction, we, at Strand go the extra mile to secure your goods